Hair rosettes, a single one or as a set of up to 5 hair roses for a braided crown! Ready to clip on - get a braided hairdo just in a minute!
Just clip the hair rosette into your hair and you are done with your braided hairdo or earphone hairstyle! Naturally we handmake this hair piece in your hair color or in a contrasting one as seen in some pictures if you prefer that! Your hair will look like you've just spent much time at the hair dresser's while you've just been in front of your own mirror at home for a minute! Get a single one or a set of 3 or six for a more elaborated quick'n'easy braided hairdo - save money with our great set discounts!

This hair piece is handmade to order as a custom match to your hair color! Click here for quick order instructions in your hair color!

These styling tips you can discover in the pictures: Wear the hair rose in long or short hair, use a single braided rosette as a fascinator or 2 or 3 pieces arranged as gorgeous headpiece! Or put your bangs to the side and secure them with a single hair rose! Last but not least you can pimp all braided hairstyles made of your own hair by putting one of these braided hair pieces on top - just in 1 minute! You like (french)braiding your bangs but you never knew what to do with the end of the braid? Just attach with 1-2 hair pins and clip a hair rosette on top!


Tip: The larger the set, the lower the price for each hair rosette! Plus you can make all the gorgeous styles with 1, 2 or 3 hair rosettes as well, when you buy a set of 5 or 6 pieces! I do not recommend adding some additional rosettes to your set later on, if you have a hair color we mix of 2, 3 or even more colors of our basic color range the color in two different orders might slightly vary. Also there will be some hair coming out of hair rosettes you have worn very often, the new ones will still be neatly braided, so they do not really match. Last but not least you save 33 % per each hair rose in a set of 6 compared to the single purchase! 
Details about hair rosettes

Measurements and attachment
One small hair rosette is about 5.5 cm/ 2.2 inches in diameter. Our hair rosettes are not flat but slightly domes, so the hair clip for attachment is perfectly hidden under the hair piece and the braided part does not stand away from your head which makes the look perfectly real! 

Our rosette hair pieces can be attached to every head, no matter if you pick this larger variant or the smaller one (below in related items). Minimum hair length for both models ist 5 cm/ 2 inches only.

Tip: Combine this larg hair rosette with a pair of small ones from our other hair rosette listing - attach one rose of the small pair to each side of the large rosette to frame it! The small hair roses are below in related items! 


Braided and twisted hair roses
Choose from 2 styles - braided or twisted! These styles refer to the pattern of the braid the rose hair piece is made of. Naturally we have securely fixed each rose to a base for you, so you can wear these little hair pieces many times and they will still look like freshly braided/ twisted and pinned up!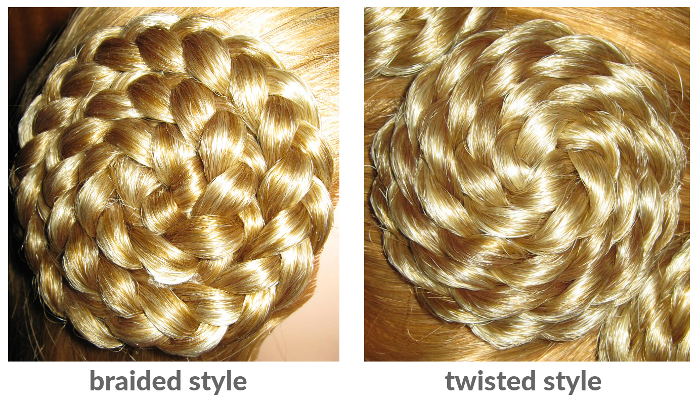 Slip stop for high wearing comfort of your braided updo
Our hair rosettes come with a round slip stop on the backside - this slip stop enhances hold and provides more wearing comfort. We apply this kind of slip stop to all our braided headbands/ haribands, too, so you might have seen it with them earlier! The slip stop is similar to the one on strapless bras and stockings. 


Discount off rosette hair piece sets!
In a set you will get up to 6 small hair roses of the same color and style (braided or twisted). Mixing the color to make a perfect match to your hair is very time consuming, so we save some time starting with the second piece which has a huge effect on the set price - the price of a single rose is down by 33 % in the set of six compared to the price of the single rose ordered alone! 


Which looks do these hair pieces match best?
Braided and twisted rosette hair pieces help you creating romantic, nostalgic braided hairdos in a couple of minutes - perfect for steampunk and Neo-Victorian outfits and also very popular with Medieval & Renaissance stylings and since they are so easy to put in also for Reenactment and Renfairs!
Such romatic and playful hairstyles are also veryvfancy as wedding hair; brides have their hair dresses install them in an elaborated updo and use them as eye catchers in their open hair as well. Naturally you don't need a hairdresser to attach these pieces, this is only if you do another elaborated updo around the hair rosettes and you cannot do that one on your own!


Please understand that this personalized item is made to order especially for you and cannot be returned! Read all details in our general terms and conditions.

Some product pictures show how to combine this hair piece with other hair jewelry or hair pieces. These items must be purchased extra.

Hair Color
Your hair color can be matched perfectly including highlights, lowlights and all shades, because all braided headbands are made to order exclusively! One's own hair usually contains 2-3 colors (only dark hair often consists of 1 color only), hence we include up to 3 colors in the price. Headbands should be matched to the upper parts of your hair only, because that is the part of your own hair they meet when you wear them.
How to give us perfect color instruction in 3 steps only, with the help of the menus above
The price includes a custom mix of up to 3 basic colors, a fourth or fifth color can be added at extra costs. Some special colors also cost extra, you will see this in the menu.


1st menu HAIR COLOR, choose your colors or enter "advice needed".
Press Ctrl and click all the colors you wish to choose for your hair piece. If you need more than 3 colors, choose the upgrades 4th or 4th and 5th color from the drop down menu, so the extra fees are added. If you forget this, we will send you a manual invoice for the extra fees and delivery will be delayed, because we can only start making your hair piece after this second invoice has been paid. 
Option: If you want to make your purchase, but still need our support in choosing the best color match, choose "Advice needed!" instead. In this case delivery time cannot be met, because we can only start making your order when all information is complete. If extra costs because of a 4th or 5th color or special colors occur, we will send you a manual invoice and delivery time will only start after payment for this second invoice has been effected.


2nd box for optional color proportions "Insert proportions for colors if desired here"
If you wish more of one color and less of another use the little message box to insert desired proportions (e.g. 2/3 of color 8 and 1/3 of color 30). When you leave this box free, we will use equal proportions of all colors.


3rd menu "details for color mix"
Tick one of the checkboxes. If you wish several colors in a fine blend and one to be added as highlights, use the message box for proportions to tell us which one the hightlight color is.


Put the hair piece in your cart to safe your choice!
 
Do you need any help? Feel free to send us a picture of your hair and we will give advice! Naturall you can also order color matches to check color details yourself.
Color charts for all Magic Tribal Hair basic and special hair colors we mix to obtain/ imitate your hair color (for advise scroll below color charts!)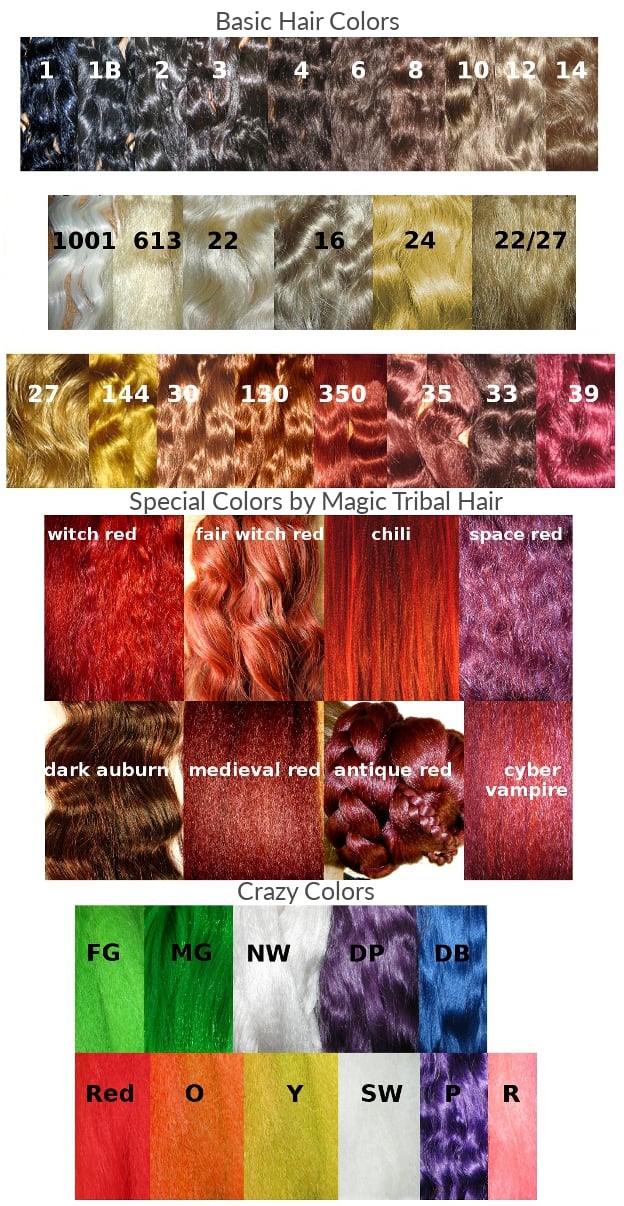 Contact us for any questions about our custom color hair rosette & rose hair pieces!