Part 1: Make your tribal fusion and belly dance costumes unique by adding clever accessories - from small cowry eye-catchers to huge bun and peacock headpiece!
It's always the small things that make your costume truly unique!
Let Belly Dance Star Apsara Habiba and my other models show you multi-styling tribal belly dance and fantasy costume accessories - often classics, but still unique! 


A Classic: Ponytail Yarn Falls - Handmade of Many Different Colorful Yarns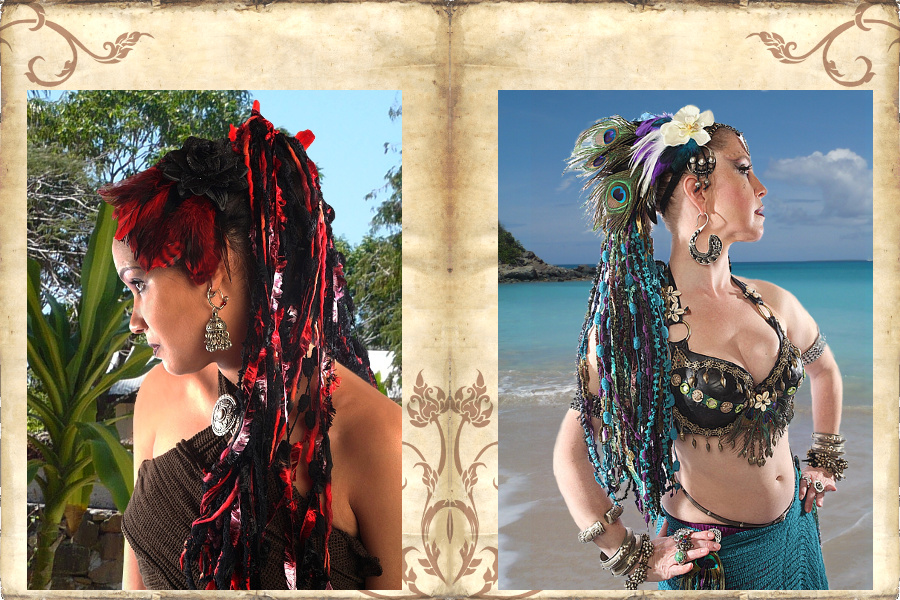 Pick the yarn fall colors as a perfect match to your costume colors!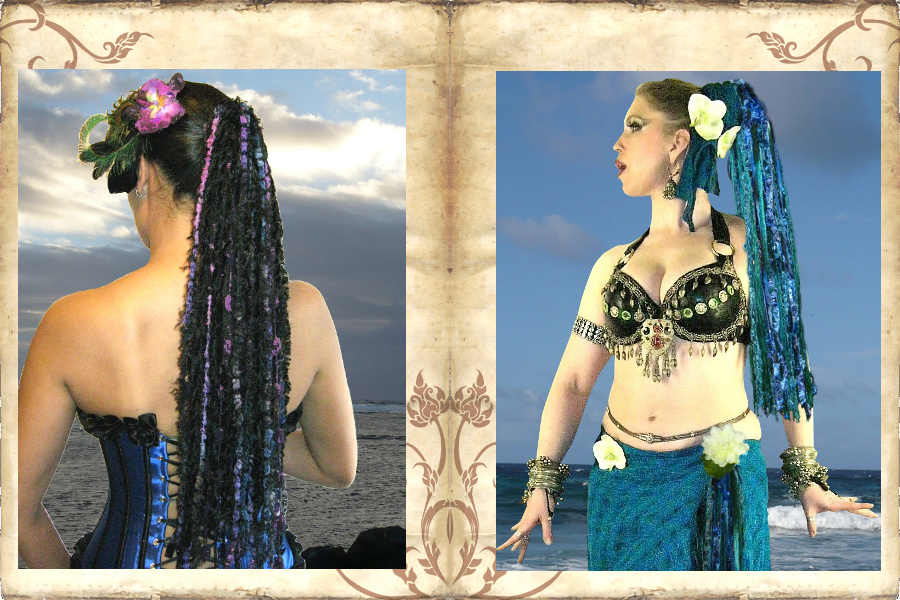 Tribal belly dancers usually add further hair jewelry to their yarn falls, i.e. feather fascinators or larger feather headpieces. The most popular feathers are coque and peacock feathers. If you love minimalist styles, then you might even want to wear such a feather fascinator or headpiece as only piece of hair jewelry which is a wonderful option, too!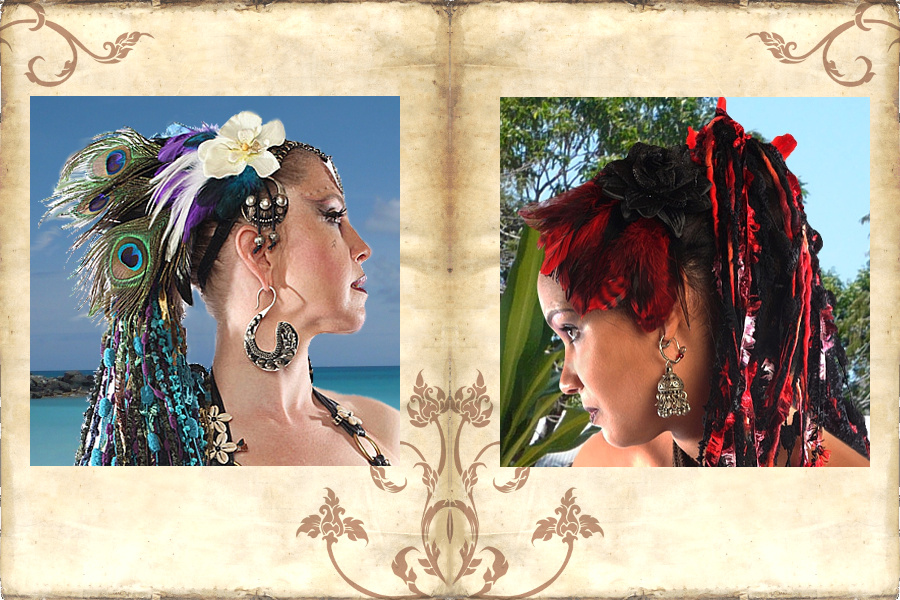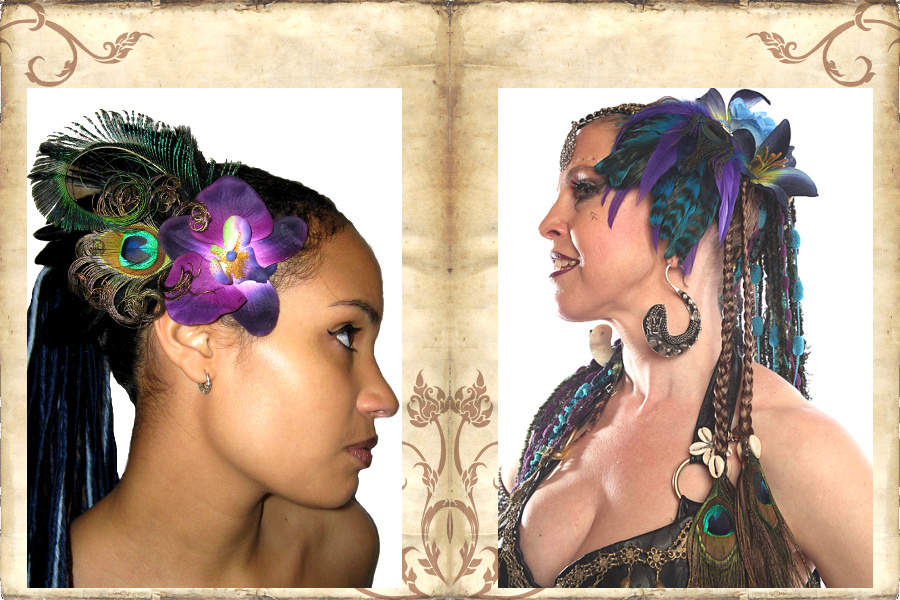 Peacock feather extensions = the braids with cowries and feathers Apsara Habiba is wearing are here!


A Must Have: Cowries on Your Costume, as Hair Jewelry or Even Both

Cowry flowers - you could already see them on Apsara Habiba's costume above are made of several real cowries; a cowry is sometimes referred to as cowry shell although it's a nautilus and not a shell. Cowries are basic adornments of tribal belly dance costumes and are popular with all tribal styles even steampunk and Gothic fusion. These cowry hair flowers are a gorgeous alternative or complement to classic cowry tassels.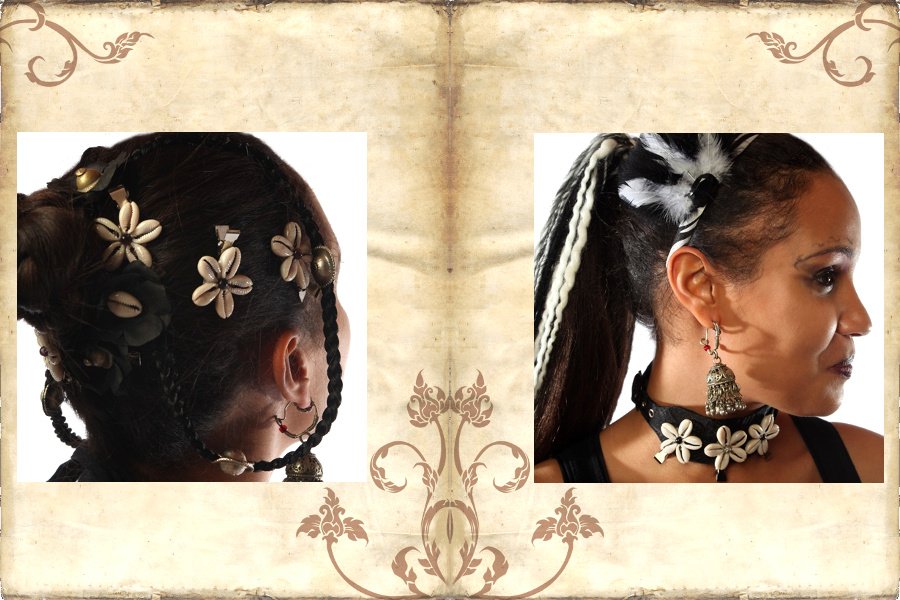 Peacock feathers turn your plain yarn falls into a gorgeous fantasy hair & head piece - perfect for forest witches, tribal belly dance fairies and mermaids, larp fairies and renfaire elves...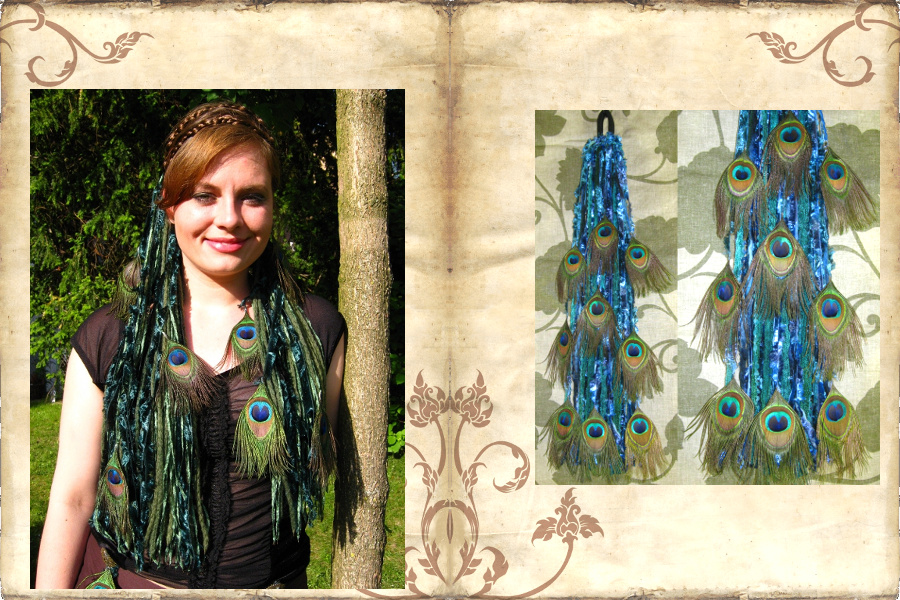 Add peacock feather hair clips and fascinators as a perfect match to your peacock hair falls or wear them single for minimalist style!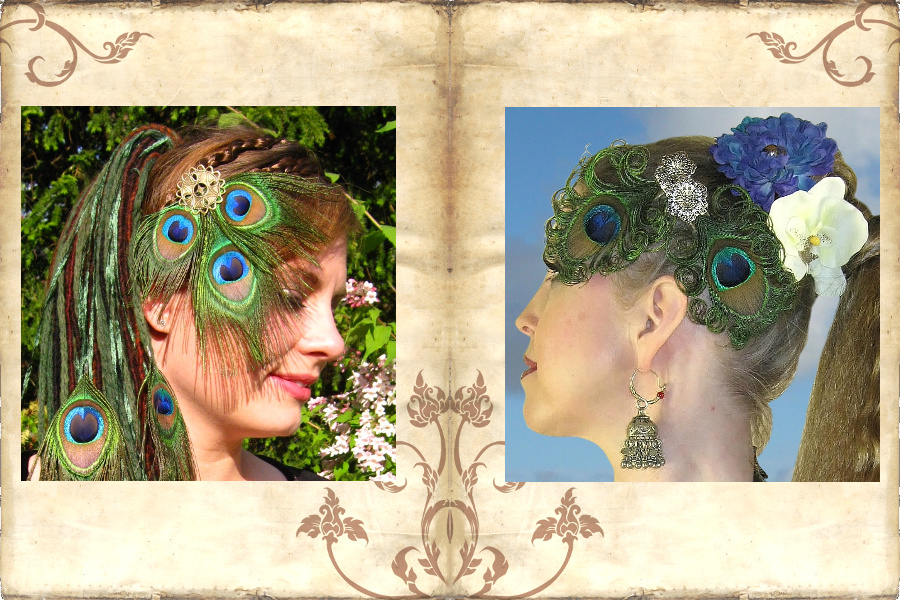 Latest belly dance fashion styles reveal many belly dancers prefer smaller yarn tassel hair jewelry to lush ponytail yarn falls. The yarns are the same, so the style is not completely different. Yarn tassels do not come as ponytails but on a clip, to wear them as hair falls and hip tassels on belly dance hip scarves, skirts or belts as well - giving you more styling options, too.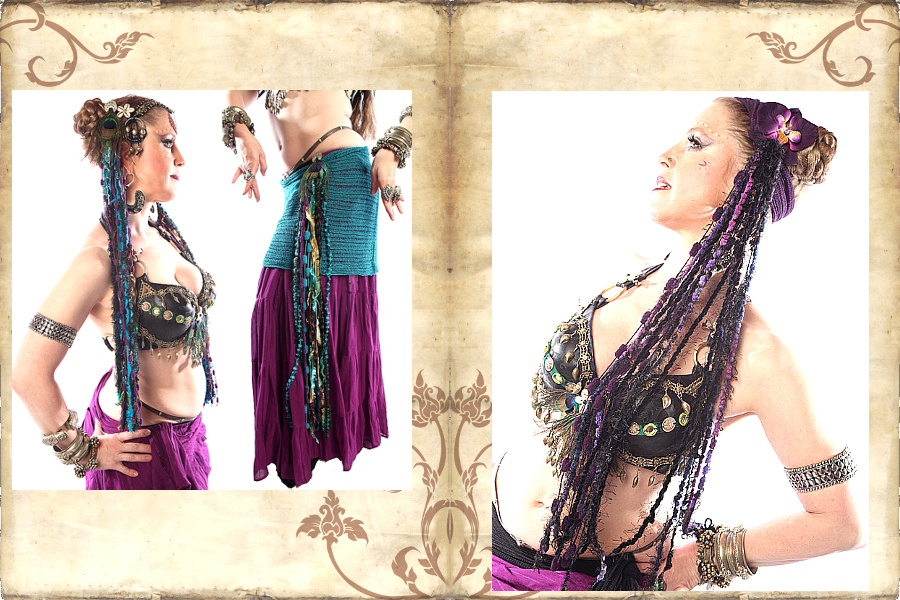 Versatile hip & hair tassels look even more unique when adorned with peacock feathers!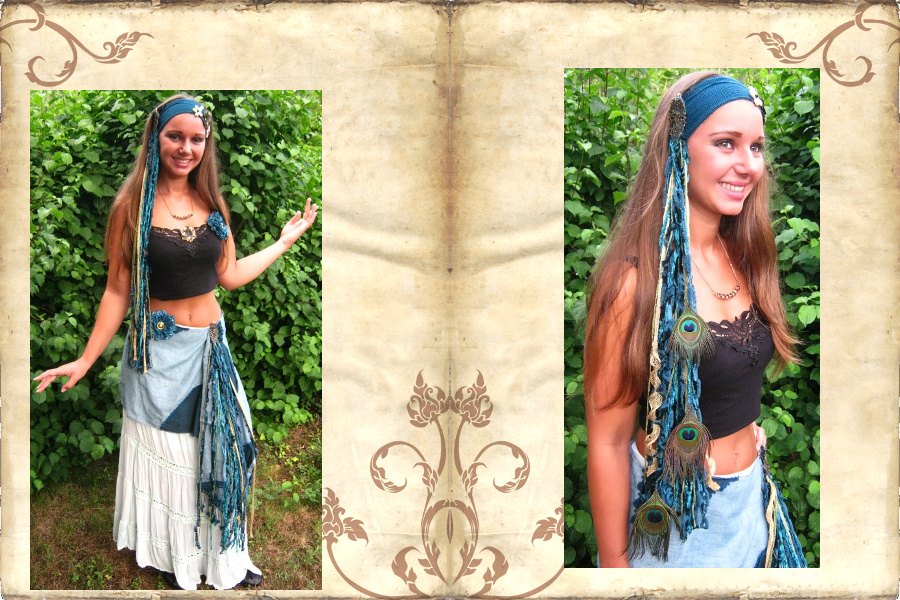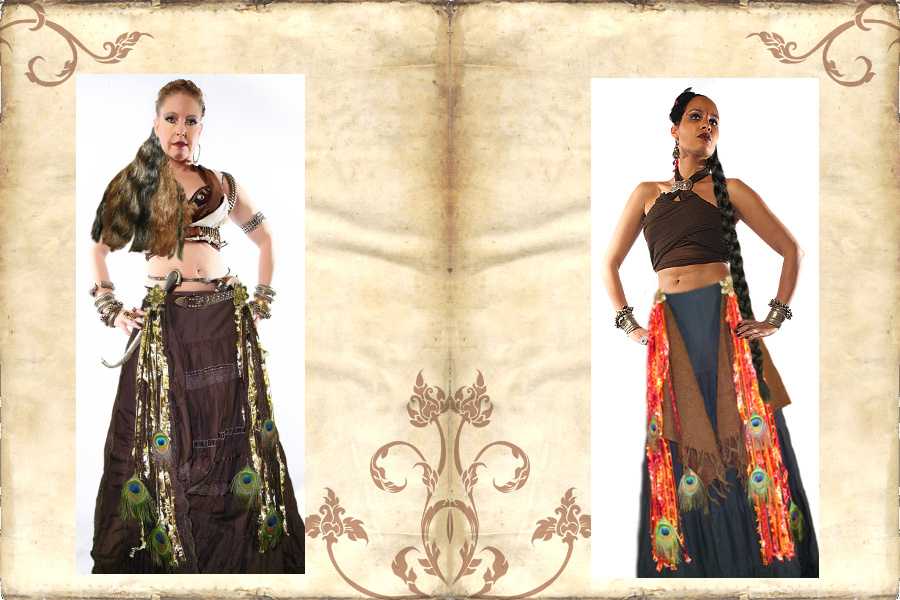 The long Rapunzel braid the belly dancer on the right is wearing is a custom color hair piece you find here!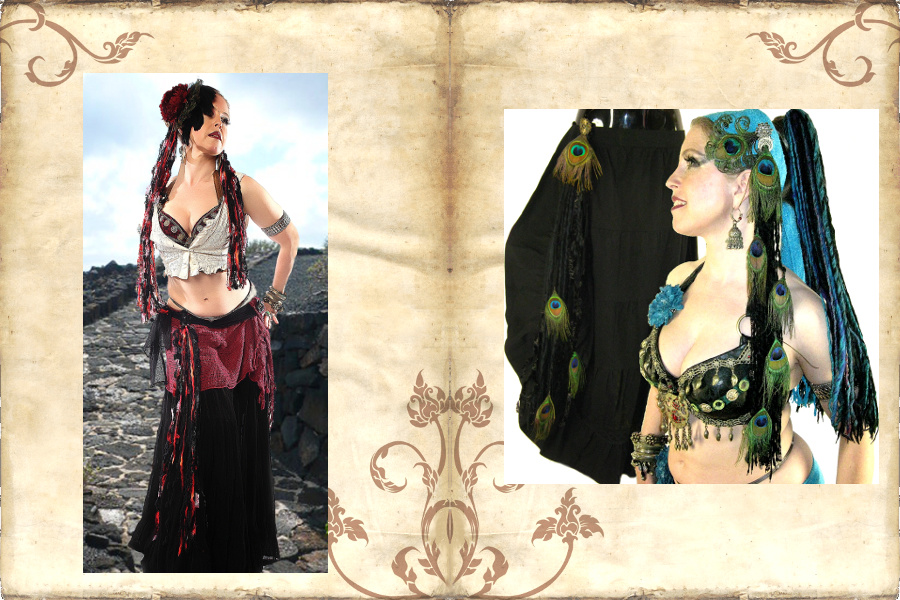 Tribal Hairstyle 1: Braided Earphones/ Topknots/ Double Buns

These braided bun pairs are a classic ATS hairstyle (ATS is short for American Tribal Style). If your own hair has not enough volume or lacks length to make these bun just use hair pieces in your own hair color - Apsara Habiba picked this pair of S size braids made of natural wavy hair for her tribal style topknots.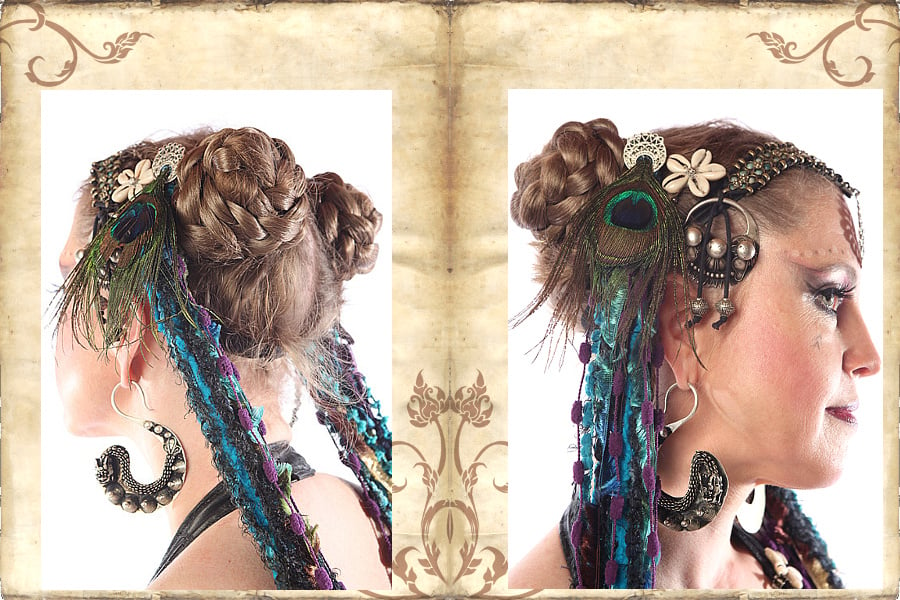 Pimp your Basic Outfit in a Few Minutes with a Set of Yarn Falls and Hip Tassels

Sets of voluminous yarn fall accessories are very popular for pimping abasic and rather plain costume and making it a fantasy style onein just a few minutes. You don't even need to know sewing for adorning your costumes this very quick and easy way!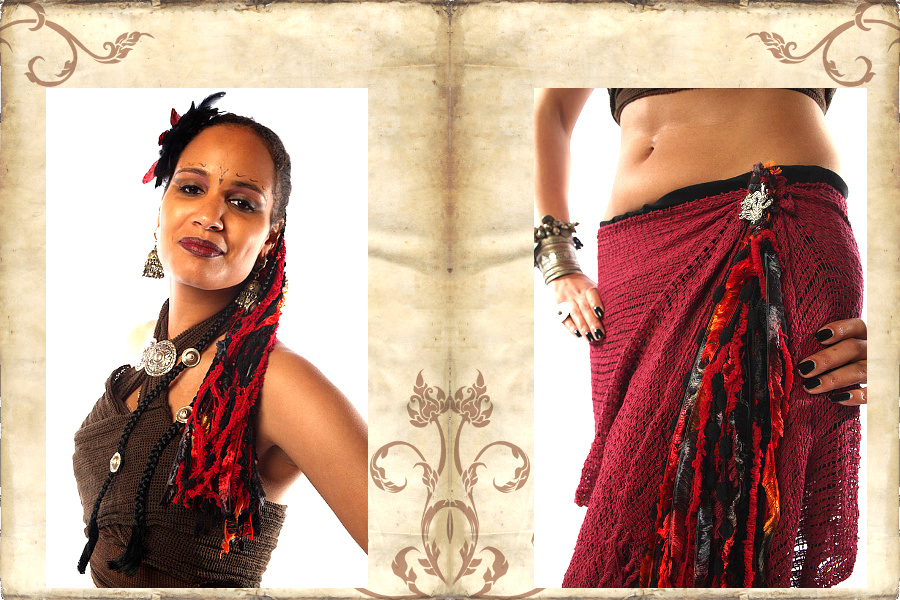 The braids with silver tribal style buttons are custom color hair extensions you find here!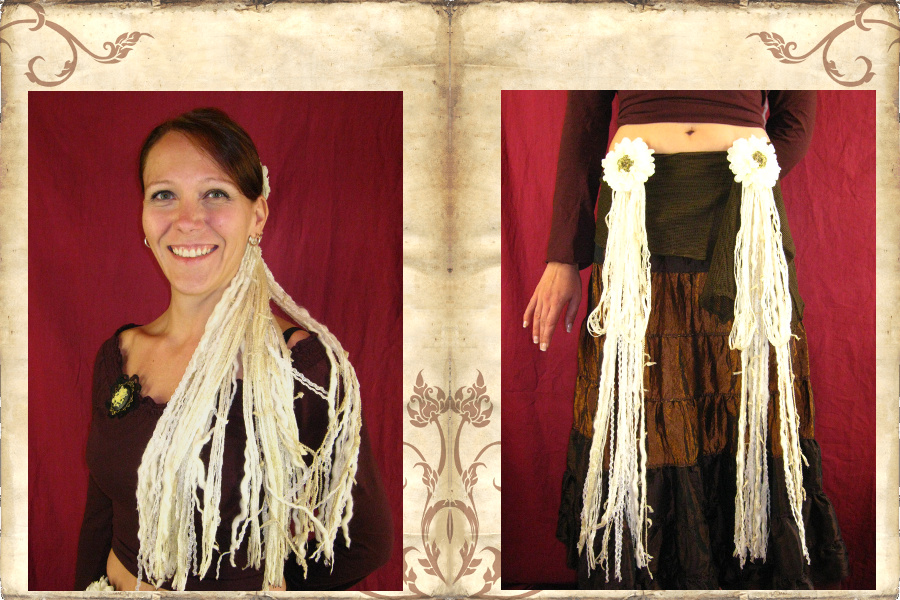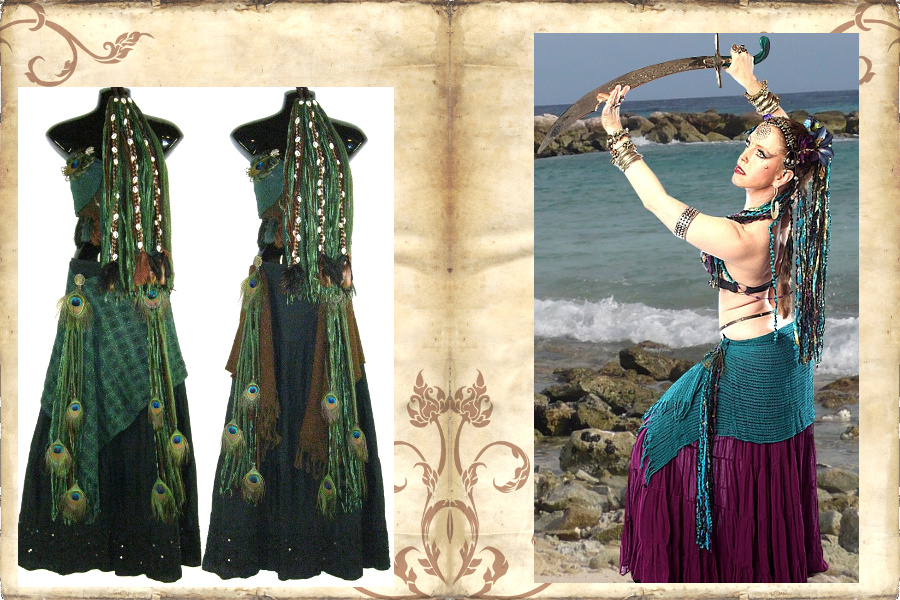 Another Eternal Classic: Hair Flowers

I bet you already knew that hair flowers are must have pieces of hair jewelry for classic oriental dance and for tribal fusion belly dance, too. While classic belly dancers prefer a minimalist look with a single often larger, precious hair flower or a pair of two smaller ones, the tribal belly dancer loves unique and lush hair gardens with lots of flower blossoms. Hairstyles like buns are surrounded by hair flowers or even the braided updo itself is decorated with flowers on top.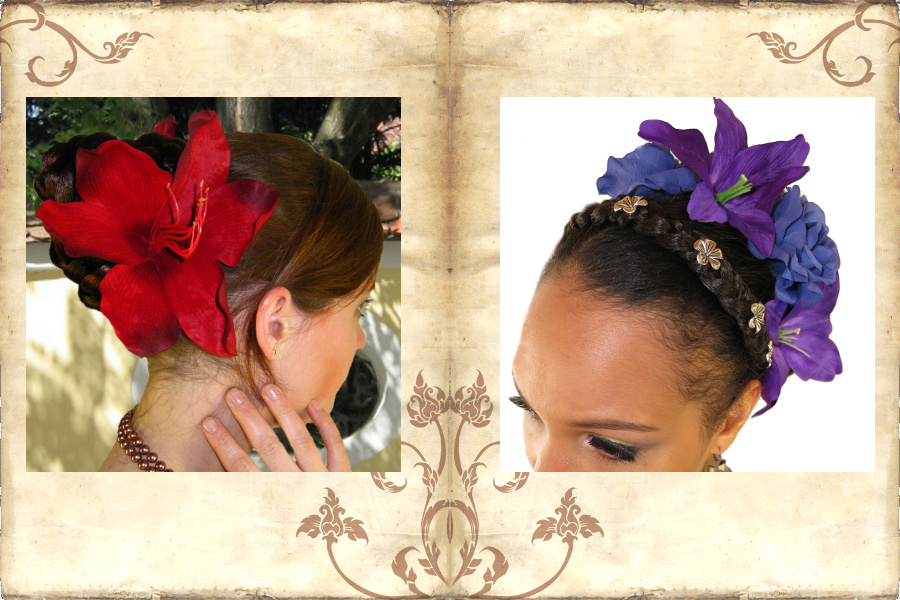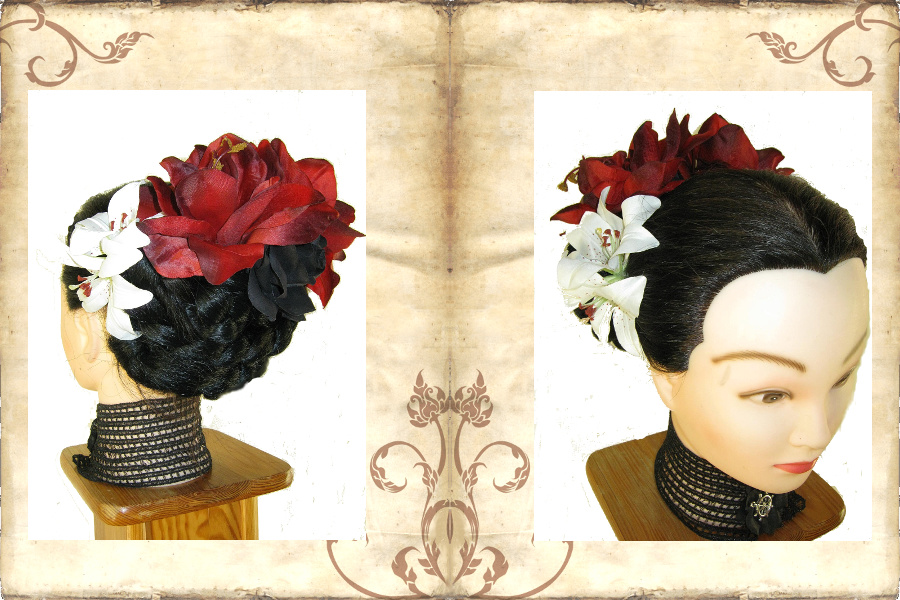 A perfectionist's repitition: Use the same decorative elements in different places of your costume. Like a hair flower in your hair and in addition on your belt tassel or as flower brooch on your costume.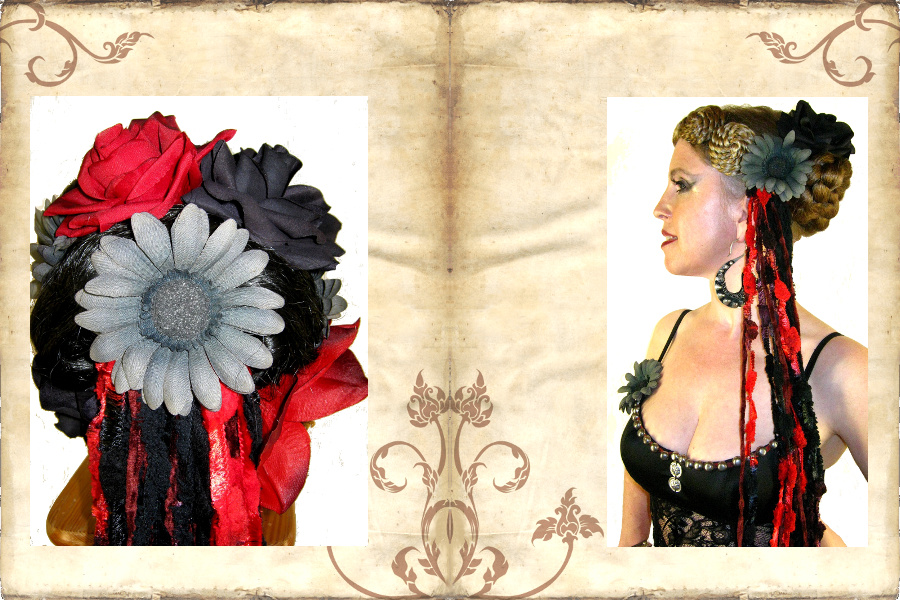 Or clip smaller and flatter flowers onto rings and armbands and wear the same flowers as hair jewelry, too!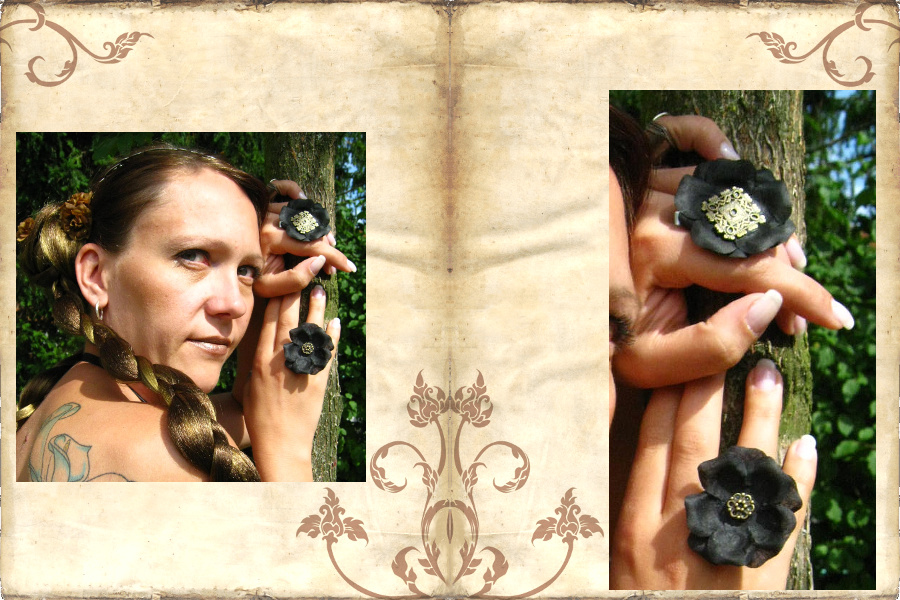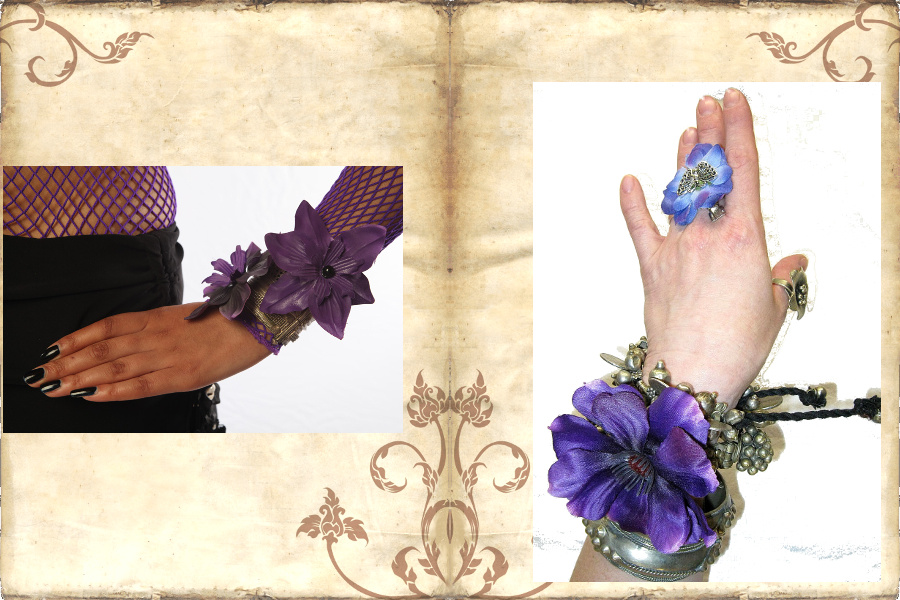 This lush bun style is at least as popular with belly dancers as the double buns shown further above. The easiest way for a lush bun is a lush braid - just attach it to your ponytail and pin it up into a bun, this is done in less than 5 minutes! If you need variation between two performances, you can wear the braid down first and pin it up for a later performance.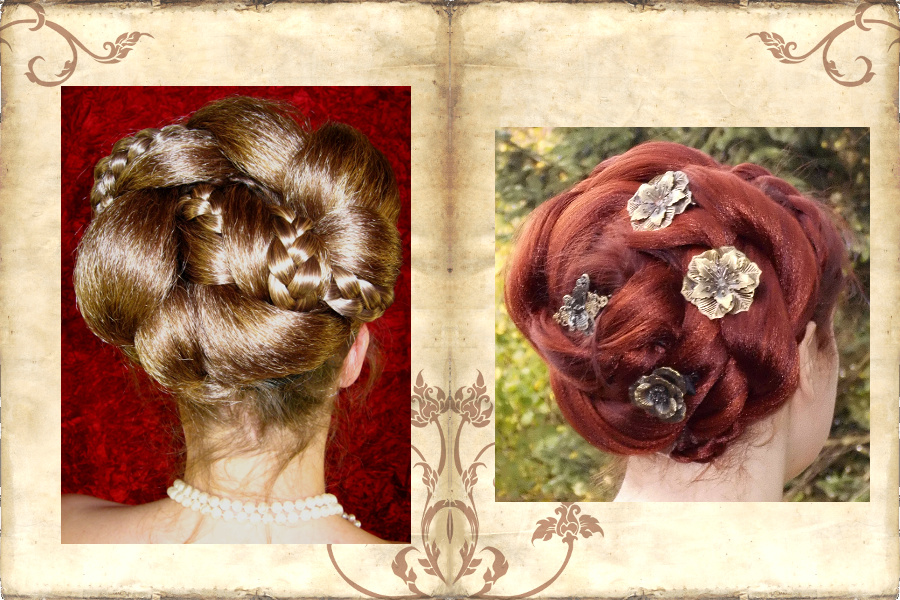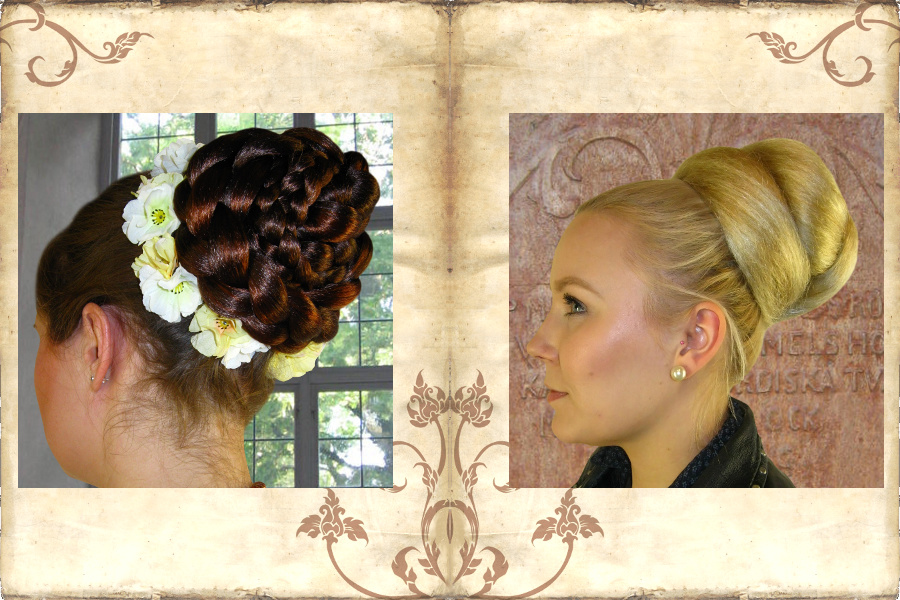 Are All Tribal Hairstyles Extremely Lush? 

They tend to be, but naturally this is a matter of taste as well - if you don't like a super pompous bun, you can wear a smaller one, of course. Just keep in mind that stage performances need somewhat hyperbolic styles - think of make-up being applied much thicker and deeper colors, too, for best look in limelight! Anyway below you can see the smaller version of the left top bun.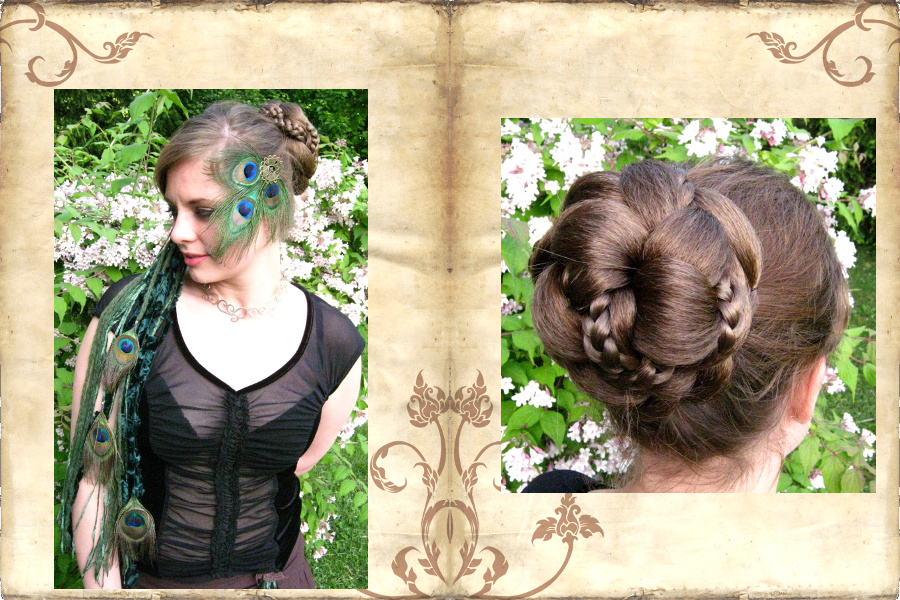 Just click the banner below, if you wish to see more quick and easy buns made of hair extensions and in different styles and sizes!







I hope you enjoyed my tips and tricks for pimping your costumes! By the way, this is to be continued ;).

Best wishes
Melanie at Magic Tribal Hair