Fantasy hair falls Cowry Mermaid - a hair piece from our Magician Collection!
This hair piece is an absolute eye-catcher for mermaid costumes and tribal fusion belly dancers because it is decorated with 50 cowry shells! You get especially great styling options especially when you order the pair like shown in all listing pictures - use the two braided braids in each hair piece to wrap around your own pigtail buns and turn them into horn-like buns! Or wrap them criss-cross hairband-like around your head and make it an awesome fantasy hairdo!

The "Magician hair piece" design is unique by Magic Tribal Hair - your hairstyle will surely be an eye-catcher at respective party, event or festival!


These hair extensions are handmade to order in your hair color!
Click here for quick picture order instructions !

Need color-matching help? Click here to read how I can assist you with a picture color check or sending you swatches!


Tribal fusion belly dancers know that cowries are small but heavy decoration, because they use cowries to adorn their costumes. A single cowry mermaid hair fall comes with 50 cowries, the pair with some discount comes with amazing 100 cowries in total, so you need a safe and especially strong attachment. That is why we offer this cowry hair piece with our professional attachment only. And you should only get it if your scalp/ head is not too sensitive (keep the weight in mind!). If you doubt, check our other Magician-style decorations, there are pieces with less cowries which weigh much less, too!

These hair falls come in our most popular volume size M and have two completely braided strands and 3 half open rich strands of hair. The braided parts are about 1.5 cm/ 0.6 inches thick and the halfway braided parts and the complete braids are sealed and won't open any further. This hair piece is about 55 cm/ 22 inches long and can also be worn on pigtails in a pair, you can pick the pair set with little discount through the menu!



What makes our Magician style hair falls so special?
The playful mix of open natural wavy or crimped (very voluminous!) hair makes the special look of this magician fantasy hair fall. Naturally the rich cowry shell decoration adds some enchanting elements on top!
The half open hair in these hair pieces is for the volume and the braided parts carry the cowries. The full braids come with about 15 cowries each, so a total of 30 cowries. The remaining 20 cowries are distributet over the braided parts of the half-open strands. 
Our magician hair falls are very popular among tribal fusion belly dancers, as theatre equipment and fantasy hair falls for costuming like Halloween, larp, at Renfairs and for cosplays.


Choose among 3 hair textures! 
WAVE - wavy open ends and straight braids
DOUBLE WAVE - wavy open ends and wavy braids
CRIMPED - crimped open ends and straight braids

Make your choice in the menu above before adding your hair piece to your cart. Crimped hair texture is quicker to make than the other textures, so falls with crimped hair cost a little less, see menus for all discounts and additional costs.




Hair Styling Options
Use this wonderful hair piece for many amazing stylings! You can wear all the hair down or just the half open strands. Then you are able to use the full braids to wrap around your head in different ways and secure them with hair pins. Be creative and style many eye-catching fantasy style looks! 

Please understand that this personalized item is made to order especially for you and cannot be returned! Read all details in our general terms and conditions.
Some product pictures show how to combine this hair piece with other hair jewelry, clip-in hair pieces etc.. These items must be purchased extra.

We only use Kanekalon hair - best quality in synthetic hair! 
Kanekalon hair has a real touch feeling, a natural shine and is very carefree.

All hair pieces are delivered with detailed instructions for attachment, use and care. 


Attachment
Professional Fishtail Attachment = strong hair tie and two additional strands of hair which complement your own hair so you have more to wrap around the attachment.
This means it's much easier to
1st secure the hair extension and 
2nd to cover the junction of your own hair and the synthetic hair!
The direct fusion of your own hair and the additional hair of the fishtail attachment offers maximum hold and is the most natural looking way to attach a hair piece!
This fishtail attachment upgrade provides extra strong hold (i.e. needed for acting and dancing) and most customers find it more comfortable to wear and easier to handle than the basic attachment. I named it fishtail attachment, because the two extra strands reminded me of the shape of a fishtail when I created this attachment method.
The fishtail attachment is highly recommended when you have thin/ fine hair or hair shorter than shoulder long. As it is never too much, you can even add it, if your hair is shoulder long or longer, of course. It is also nice to have, if you like the small buns which occur when the fishtail attachment is used.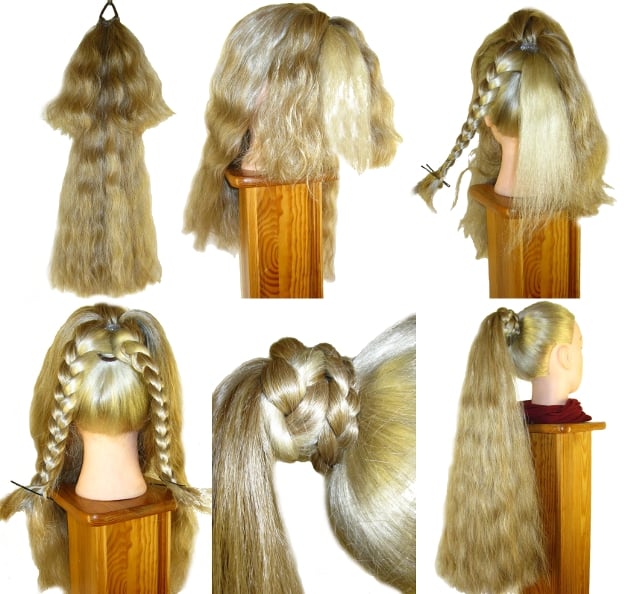 Click here if you wish to see some more styling variants with professional fishtail attachment!

Hair Color
Your hair color can be matched perfectly including highlights, lowlights and all shades, because all braided headbands are made to order exclusively! One's own hair usually contains 2-3 colors (only dark hair often consists of 1 color only), hence we include up to 3 colors in the price.
Click here for extra large color charts!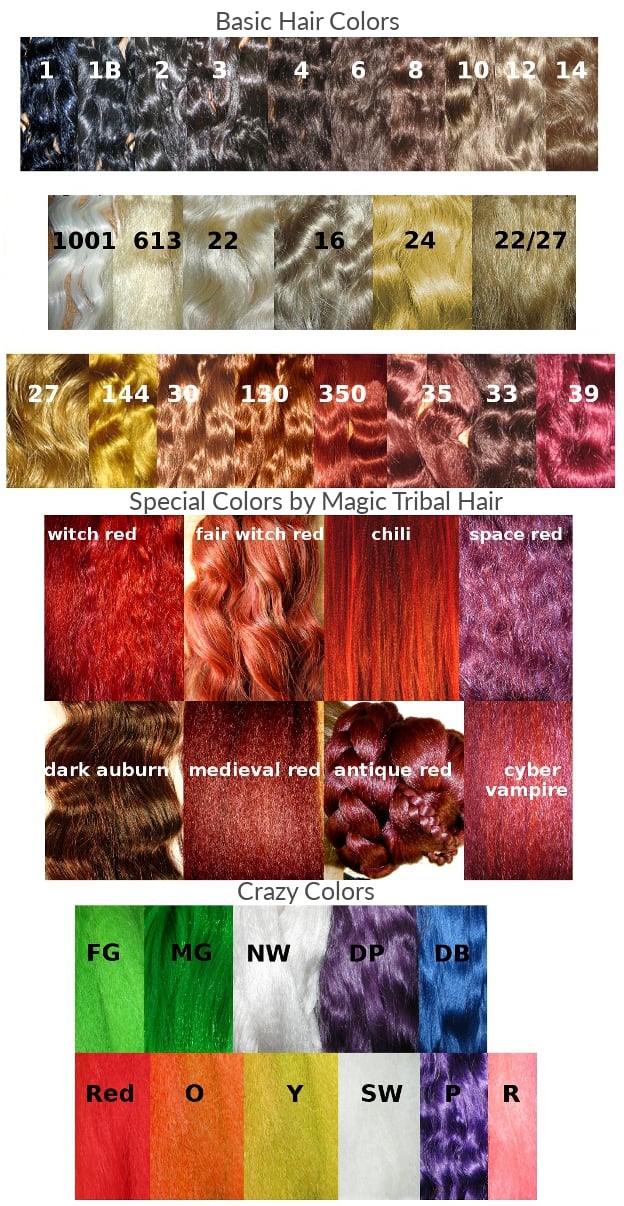 How to give us perfect color instruction in 3 steps only, with the help of the menus above
The price includes a custom mix of up to 3 basic colors, a fourth or fifth color can be added at extra costs. Some special colors also cost extra, you will see this in the menu.


1st menu HAIR COLOR, choose your colors or enter "advice needed".
Press Ctrl and click all the colors you wish to choose for your hair piece. If you need more than 3 colors, choose the upgrades 4th or 4th and 5th color from the drop down menu, so the extra fees are added. If you forget this, we will send you a manual invoice for the extra fees and delivery will be delayed, because we can only start making your hair piece after this second invoice has been paid. 
Option: If you want to make your purchase, but still need our support in choosing the best color match, choose "Advice needed!" instead. In this case delivery time cannot be met, because we can only start making your order when all information is complete. If extra costs because of a 4th or 5th color or special colors occur, we will send you a manual invoice and delivery time will only start after payment for this second invoice has been effected.


2nd box for optional color proportions "Insert proportions for colors if desired here"
If you wish more of one color and less of another use the little message box to insert desired proportions (e.g. 2/3 of color 8 and 1/3 of color 30). When you leave this box free, we will use equal proportions of all colors.


3rd menu "details for color mix"
Tick one of the checkboxes. If you wish several colors in a fine blend and one to be added as highlights, use the message box for proportions to tell us which one the hightlight color is.


Put the hair piece in your cart to safe your choice!
 
Please contact us for any questions about our fantasy Magician hair falls!