FIRST color check & advice is free! You actually needn't book this offer, it's just listed here to give you important information for successful color matching help.
Naturally you can also use the picture color charts in each hair piece offer to check the colors for your hair piece. But this service is a special offer that enables you to benefit from my expertise or simply if you find it hard to imagine how the basic colors you anticipate look together when blended. Please e-mail your picture to [email protected]!


A picture paints a thousand words - give me a perfect picture of your hair!
Most customers who left raving revies for my custom color hair extensions used my free picture hair color check - it's really worth the effort.
I have a special screen to check your picture on and I can work very precisely (e.g. add first single gray hairs or super fine highlights or a shimmer of a color). I often use 3 of my basic colors and more for a single hair piece to get an exact copy of your hair, but this is doable only when I can see all details of your hair. You can read more about the complexity of hair colors here at the bottom of this page!

Use your phone or a camera and stick to my instructions below!

Remember: One picture hair color check is free, don't waste it!

What happens after you have e-mailed your picture?
I will suggest an exact blend for your hair piece
(e.g. 50 % of color 22/27 in a fine blend with 30 % color 613 and 20 % color 27 for the example pictures below, the model dyes her hair regularly, so there is no need to include the darker roots).

You doublecheck my advice with the picture color table on the bottom of this page and naturally with your hair in real.
Then you will let me know if I should use this blend/ place your order in this blend or which blend I should use instead/ place your order with the blend adapted by you!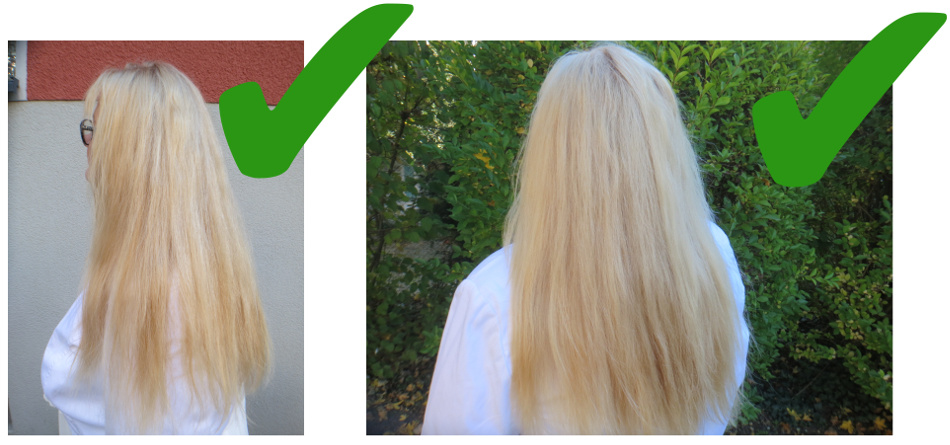 Using my instructions is so important because a hair piece matched to this kind of picture in most neutral light will change hair color in other light situations just like your own hair does!
My requirements for your picture are very detailed, but you will be able to follow even if you are not good with photography or technical stuff.

1. GO OUTSIDE!
Really ouside, NOT near a window, NOT on your balcony, NOT in your car.

2. NO sunlight! A cloudy day is perfect!
Or look for not too dark shade and don't use a flash!


3. Stand in front of a clean background
A wall, large bush/high fence without light coming through). Take the picture with NO sky in the background.


4. All light must come from behind the camera.
The lightest part of the scenery must be behind the camera and not in the picture (you are in front of the camera).


5. Your hair is down in the parting you usually have.
Your parting is more to one side? Take the picture from that side!


6. Point your shoulder or your back to the camera/ take the picture from the side or the back!


7. Check your picture and send it!
Is it blurry, does your hair color look strange or is there a glare? - Take a new one!
Is it clear and your hair color looks like you know it? - Send it!
We can match to one picture only, so send one picture only!

Mail your picture to [email protected] I need to check it on my special screen for color matching, this can't be done with pictures sent through whatsapp, so I need you to e-mail it to me.




Here are some examples for pictures that don't work
If you understand all details in the how-to instructions above, this might be confusing to check though ;-).

Thank you for working with me on your perfect color match and for taking a picture to my instructions and the two sample pictures with green hook above!



General Hair Color Information
Many hair colors are composed of 2-3 colors. A darker color underneath, a lighter shade in the top layers and in long hair tips are usually even lighter, even if you do not dye your hair. Highlights can ask for an extra color, too.
Overall with long hair, our hair is usually darkest on top of our head and lighter in our lengths. Keep in mind that with many hair pieces you use your own hair for attachment only, so the hair piece meets mostly the darkest shade on top of your head and not your tips. Your tips might even be completely hidden, but if you do not include their shade at all, you will get a darker color than you are used to see on yourself. So you might want to include the color of your tips in a small percentage as fine highlights for example. Just do not make the common mistake to compare the colors of our charts or swatches with the color in your lengths only. I think this is what people mostly do, because this is the visible part of their hair without a mirror.

Black and very dark brown hair
People with very dark hair tend to have one color only, this affects hair colors 1-4 mostly.

Browns
Brown shades are more complex, here 2-3 colors are usually needed for an exact copy of your own hair.

Blonds
Blond shades are even more complex, the darker the blonde, the more colors are usually needed, sometimes even 4 or 5 for an exact copy.

Grays
Gray hair is similar to blonde, gray itself is always color NW. If you have first gray hairs these can be included in your hair piece as single gray hairs of color NW. If your whole hair is gray you might still need more than just color NW, in very small proportions only but these make out that your hair piece looks so realistic. Many customers have in between shades, their original hair color, many gray hairs and some new shades occuring like a blonde, a fair brown but also a very dark brown they have not had before. For these shades I often need 4 or 5 basic colors for an exact copy.

Reds
Red hair is not as complicated as many of you think. Most lighter henna dyes include colors 350 and 130, most darker henna dyes colors 35 and 350 as basic colors. Natural reds are usually in the range of colors 27, 30 and 130. All red shades are as easy to match for me as other hair colors. I offer some special reds, these are elaborate blends that have proven to be quite popular, so I added them to the color charts. They can still be changed by blending with other colors but it does not make sense to combine 2 of them, for example witch red and chilli. If you think this is your hair color you should better contact me for the picture color check.


How we make your color mix
We have developed our own techniques, because working with synthetic hair differs strongly from having your hair dyed at your local hairdresser's. Your hairdresser blends the liquid color and applies it to your hair. We take bundles of hair in the basic hair colors we need for your hair piece, part them and put them together again until we have the desired mix.
This time-consuming work by hand enables us to make thick streaks up to fine highlights. Or to get a fine blend which actually is a new color and you cannot recognize the single basic colors in this mix any more.
So the technical side differs strongly from hair coloring at the hairdresser's but we get the same result! Just to give you an example: When we blend two fair shades of blonde and a copperish shade, we get a new shade of blonde with a slightly copperish shimmer.


Why is there a non-free offer for a second color advice as well? 
You indeed should need the first one only, if you mail us a perfect picture according to our instructions straight with the first one. 
We all have pictures on our phones and laptops, so our instructions are often skipped and customers send us pictures from their library. In most cases these pictures are sufficient for narrowing down the choice, but we cannot determine the exact mix with all details with them. In these cases you either have to determine the details we need for your hair piece yourself or book a second consulting at extra costs and send us a clear picture according to our instructions. 



Basic Hair Colors
Click here for extra large color charts!

 
Please contact us for any questions about our custom color hair pieces or color consulting!
All reviews have been written by real customers who have ordered respective item through this shop, our European site or our shop on Etsy. We always share the original publishing date and place for transparancy.
Melaine was very specific with all the questions she asked me and some stuff I didn't understand but she got the colour match bang on. I couldn't have been happier and it was far easier to fit myself than I imagined. So happy and will definitely be back for my next cosplay hair piece. Thanks again
I can't wait to show my hairdresser so that she can see how perfectly Magic Tribal Hair matched my colors and tones that I have adopted in the last few years. Melanie is incredibly helpful and it is obvious that she wants the hair piece to exactly match your own. I look forward to ordering more. Theresa; an extremely happy customer.
The hair color turned out close to my own color, maybe a bit too warm/brown in tone.
The photo colour consulting is really useful as it is not so easy to choose the right colour for the hair extension that goes well with your own hair just by looking at the photos of the hair extensions. Melanie gives good advice: I received the braided headband I ordered in juste the right colour that matched my own hair.
I sent Melanie a photo requesting her advise regarding a colour match for a headband. She responded very promptly indeed (that same evening). I took her advice and it the headband matches my own hair colour perfectly. It looks just like my own hair colour.
melanie provided me with a perfect color match! she was so helpful and patient with all of my different nuances! i'm so happy with my hairband! thank you!
So glad I opted for the color check. Melanie is excellent to work with and incredibly precise. The resulting headband is a perfect match!
I had to spend a bit extra to add more colours to my grey mix, well worth it!

Melanie responded on Apr 17, 2023

Hi Vera, I am happy to hear you like your braid headband and thank you for both of your awesome reviews! Yes, gray hair can be very complex and I often have to use 4 or even 5 of my basic colors to make an exact match. This is mostly necessary only for grays and blondes, so most other hair colors are composed of 1-3 shades only, hence 3 is the maximum included in the regular prices. This way only customers who need more colors pay the upcharge - I think fair prices are important ;-). Have lots of fun with your new styling accessory! Melanie at Magic Tribal Hair
Thank you, Melanie! This is my fifth or sixth purchase from Magic Tribal and the braided headbands I just received are perfect, as usual. My hair color is hard to match--but you got it right with your patience and artistic eye. I'm adding a photo of the first crown braid you made me... a precise match to my real braid. I'll be your customer forever!
My braids came perfectly matched to my hair and for years I've had others asking me if they're real. Fabulous work!
Melanie did an amzaing jobe with the custom colour match to my naturally greying hair, from just two pics...I could never have done it as well as she did. VERY PLEASED! THANKS EVER SO MUCH!
Exceeds my expectations!!!! Picture coming up next week!!!!!
Melanie, oh my goodness! I'm speechless!

I had high expectations, but you have exceeded them. Over the last fifteen years, I've custom ordered many hairpieces, including kanekalon, and yours is the first that is an absolutely perfect match in color, texture, and even in sheen. Absolutely amazing and unachievable with human hair.

I'm going to immediately place another order from you, and will tell everyone I know. Please, promise the next one will be exactly like this! Because now I have very high expectations. Magic is right!

Feel free to use this as a testimonial if you like. It will take some practice for me to become good at putting in the extensions but once I achieve it, I'll get a photo for you. I still can't get over the perfection of this color. You have an artist's eye, and a lot of patience!

Many, many thanks for my wonderful, magic hair,

Candace
Super service. Great quality product. Repeat purchases and very happy.
I definitely wish to express my praise to Melanie. She takes her work very seriously and she is patient and therough. My hair color and texture was matched perfectly.
And she catches my mistakes!!! Lol. So I get the perfect product every time. I'm a repeat customer and Melanie's hair braids and head bands make life fun.