2 flower hair clips/ hair flowers with 1 wine red orchid each, attached to professional metal hair clips for very strong hold (minimum hair length: 5 cm/ 2 inches).
Choose between 3 different sets!
Size small orchid: about 7 cm/ 2.8 inches diameter.
Size large orchid: about 10 cm/ 4 inches diameter
You will get two pieces with 1 blossom each per purchase!

Our hair flowers are gorgeous litte eye-catchers and hair jewelry you can wear every day and for costuming!
Magic Tribal Hair exclusively uses strong, professional hair clips which provide very strong hold. Moreover these clips do not have any teeth, so they can be worn on all fabrics without pulling threads. This means you can wear all our flower hair clips as shoe clips, brooches on a collar or shoulder strap, as bag clip and even on flat jewelry like larger earrings and flat rings as well - hair flowers by Magic Tribal Hair are many in one items! And last but not least, the clip is alway entirely covered by the flower, so it does not shine through, see the picture below for details. 

Some pictures show this item in combination with further hair jewelry, hair pieces etc.. These other items are not part of this offer but can be found in different ones in our shop!

All hair flowers are hand-made to order.
Hair jewelry cannot be returned for hygienic reasons. 

Contact us for any questions about our hair flowers/ flower hair clips!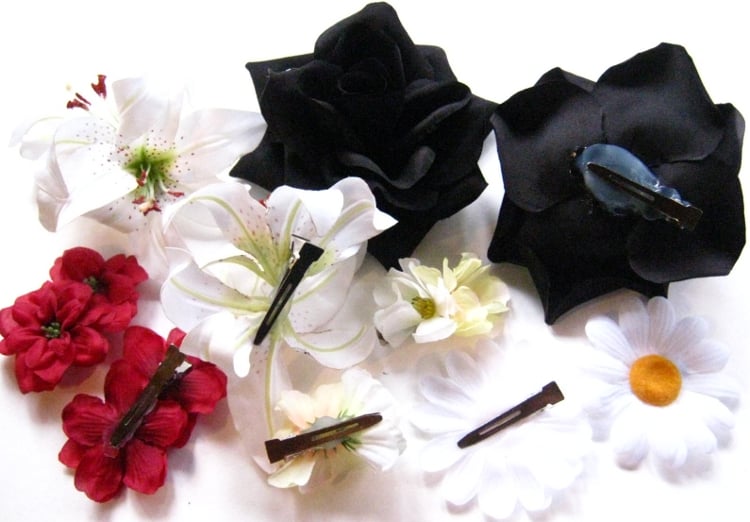 All reviews have been written by real customers who have ordered respective item through this shop, our European site or our shop on Etsy. We always share the original publishing date and place for transparancy.
beautiful flowers for Tribal! thank you