Anniversary Offers - 10 Years Magic Tribal Hair
10 amazing and special % discount offers % for our 10th anniversary!
Plus some more specials throughout 2019 - overview here! 

We will publish the 10 offers with gracious discounts throughout the year, the latest action is always on top. Some special offers are valid for several days, some even for several months.

A few special offers are exclusive to our newsletter recipients, we note this with respective offers. Naturally you are free to subscribe any time and benefit from these actions, too! You find the newsletter subscription field at the end of each shop page and naturally at the end of this page, too.



CURRENT OFFERS:

Special Offer 10 (of 10):

Part 1: $ 10 off some of the most popular hair piece sets, handmade to order in your hair color!
Applies to the first 6 hair piece sets in our SALE, valid through Dec 31, 2019! Make yourself a gorgeous styling gift! Sale hair extensions are usually in the color in the first picture only, but these sets are custom ones, I will handmade them to order in your hair color. $ 10 is the minimum discount, some special colors cost a little extra per hair piece but here they are added only once per set!




Part 2: $ 10 - $ 20 off 10 of the most popular tribal fusion belly dance costume and hair jewelry sets!

Valid as long as stock lasts respective through December 31, 2019. Find all sets below the 6 discounted hair piece sets mentioned above in our SALE!




Special Offer 9 (of 10):

Valid worldwide* thru December 31, 2019!

*European countries are excluded, we do not accept orders to Europe thru this site, because we have an extra European website.




The first anniversary retro collection is available: Red Passion
Details and links to all items here in our blog!


Discount Offer 2 (of 10): Valid March 3, 2019 thru Dec 31, 2019
Available for everyone, no coupon code needed!

All hip & hair tassel clip yarn falls at discounted price throughout the whole anniversary year!
We will offer you this discount thru whole 2019 for these colorful and versatile fantasy and tribal fusion belly dance costume accessories!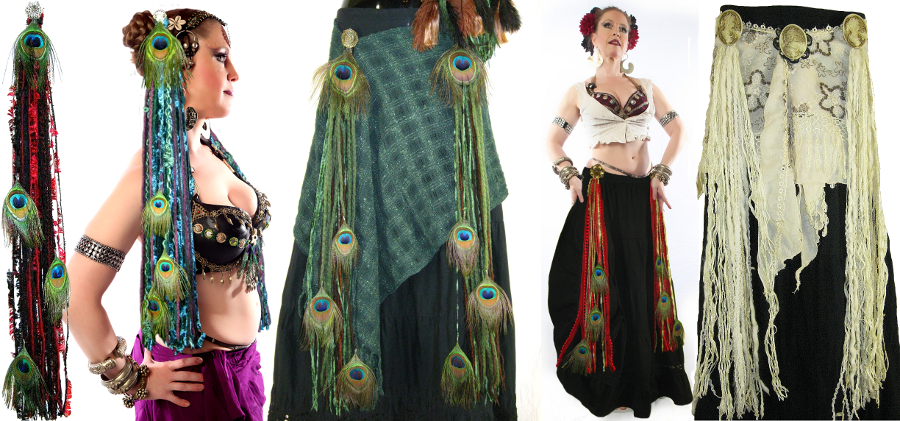 PAST OFFERS:
Special Offer 8 (of 10)
$ 10 off your fantasy braid - bun - braided hair crown
Valid for 10 days, October 6-16, 2019
Coupon code 10_YEARS_MAGIC_TRIBAL_HAIR



Special Offer 7 (von 10):

20 % OFF

all items* in our shop for Labor Day!
Valid August 30 thru September 4, 2019

*All items in your order without shipping costs, only gift cards and surprise bags are excluded.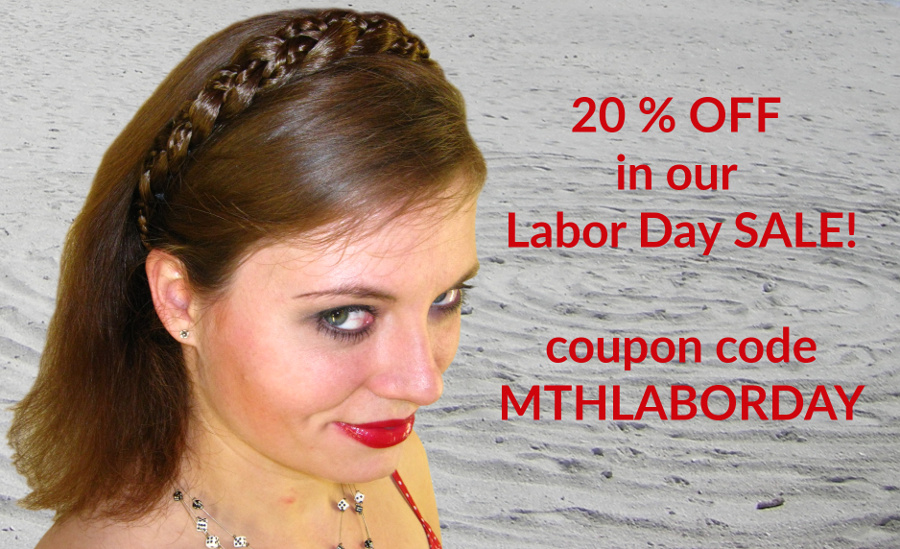 This coupon code is also valid in our shop on Etsy, but the discount is 10 % there (not 20 % as here) and it expires 1 day earlier.
Special 4th of July Offer




Discount offer 5 (of 10): $ 10 off your set of clip-in dreads, here in the shop!
Only for 10 days - May 30 thru June 8, 2019!
Coupon code: 10YEARS_MAGIC_TRIBAL_HAIR

Click here for all details about our coupon codes!

The discount applies to plain clip-in dreads, sets with ostrich and peacock feathers and even to personal color mixes!



Special Offer 6 (von 10): Goth Dreads Sale - $5 to $10 off many Gothic Dread Falls 
- only as long as stock lasts - some are still available!
No coupon code needed, the discount is already deducted, you find all discounted dread falls here in our SALE!



No need to put the surprise bag in your cart, just enter the coupon code for the bag you want! Available from order value $ 50 (sum of all items in your order).

Details and regular price of the Goth Surprise Bag!

What you'll find in the MTH Surprise Bag!

Take a look into the Vintage Surprise Bag!



Discount Offer 1 (of 10): Valid January 7 -13, 2019

- exklusively reserved for newsletter recipients
€ 10 discount coupon for hair pieces of synthetic kanekalon hair in the % SALE section, details in our January newsletter.